Getting back to some of the basic, raw facts of why Saban should be fired, let's take a look at some past bowl games to illustrate the unflinching cowardliness demonstrated by The Sabe.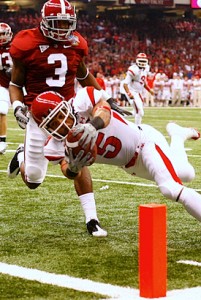 Starting with recent history, the cocky Tide roll into New Orleans on a cold January 2nd to face off against the undefeated Utah Utes. Talk about being over-favored and underwhelming, the Tide gave the Utes their very first win over an SEC team and held Alabama to a meager position the first half of the game.
In the entire game, Alabama mustered just 31 yards rushing, gave up 8 sacks, and had a total of 208 yards on offense*. And after building its season on one of the best running games in the country, the Tide's major weakness was in losing Andre Smith who was suspended by none other than Nick himself! Clearly, a lack of leadership is what failed this team who had gotten this far only to be too cocky to realize that Brian Johnson was arguably the best QB the Tide faced all season.
*Note: This terrible performance gained Saban a #2 Worst BCS Bowl Performance from Athlon Sports.
After (ironically) losing the SEC championship game, preceding the Sugar Bowl, Saban had the gall to state that the Tide were the only team that went undefeated in a "real BCS conference". In other words, you could say that Saban gave the Utes the motivation they needed to succeed and topple the over zealous Tide.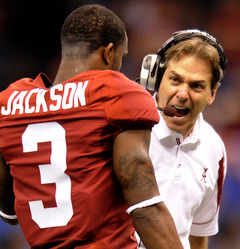 Congrats to the Utes for showing that mid-majors can win BCS bowls but shame on Nick Saban for being short-sighted, domineering, and really kinda small and impish.