I know, I know: the Tide won yet another national championship last year. But it's a good f*&%-in' thing they played Notre Lame in the title game and not Stony Brook, or else things might have turned out very different.
Let me explain.
Nick Saban's crew, as we all know, lost to Texas A&M. Yes, the same Texas A&M squad that lost to Florida (who you might remember got smoked by Big Least "champion" Louisville). The Cardinals lost to Uconn, who had been defeated by Temple. Of course there we the Temple loss to Maryland, and the Maryland loss to BC.
Those shitheads from BC lost to Army last year, and Army couldn't keep up with Division II Stony Brook (they actually got their asses handed to them 23-3, which raises some serious doubts about our military strength but that's a post for another day. Thanks to the good folks at MyTeamIsBetterThanYourTeam.com for pointing this out. Without them, I'd have one fewer reason to want to fire Nick Saban.
So sure, Alabama has another title. But it's almost not worth it knowing we would have gotten our shit knocked by Stony Brook. My memory isn't so good, but I'm pretty sure Mike Schula never lost to Stony Brook.
A few fun facts about this powerhouse that is transitively better than Nick Saban's team: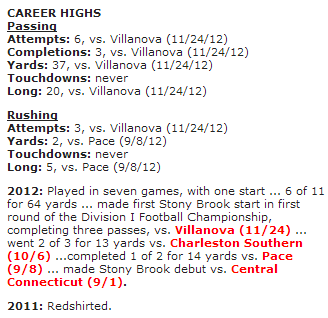 I've put up with a lot as a Tide fan over the years, but this latest humiliation is tough to swallow. Time to pack your bags Nick, the winds of change are a blowin'.