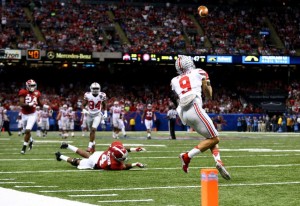 If you're anything like me, you probably didn't sleep well last night. Our beloved Tide lost ANOTHER Sugar Bowl, and to make things worse…this time it was to a team from the lowly Big Ten. I know, I struggle to believe it myself.
This wasn't a loss to Utah, or getting rocked by Stoops' Oklahoma squad…..it was a team from the Rust Belt. A team with inferior athletes. This loss was 150% Saban's fault, and further proof that he must be fired. I'll explain why…
Let's start with three facts:
Players from Ohio (and the midwest in general) are slower than players from SEC country – If you were to do a study, I guarantee that any football player in Alabama can run faster than any football player in Ohio. We don't need to do a study though because it's just undeniable fact. It's because of a lot of things: spring ball, hours spent running outside in the beautiful Alabama sun, superior high school coaching, and of course generations of superior athleticism (genetics).
Any Team from the Big Ten would at best win 2 SEC games – I don't care if it's Ohio State, or Michigan State, or Wisconsin…..if they had to face the gauntlet of the SEC each year, I know they'd be lucky to beat Kentucky and Vanderbilt. They'd lose to everyone else. If you put that Ohio State team through an SEC West schedule they'd struggle in every game and wouldn't be anywhere near the playoff.
Any Team from the SEC would win the Big Ten most years – We know Bama would of course (heck we could do it with 3rd stringers), but so would any other team from the SEC. They just don't play good football in the Big Ten and teams from the best conference in College Football would run through that weak Big Ten schedule like it was nothing. Big Ten teams aren't used to murderer's row, SEC teams are hardened by the difficulty of their schedules each and every year.
In spite of all these undeniable facts, Saban somehow coached a losing game against the champion of the Big Ten. Don't blame the players, don't question if "SEC Speed" is a myth like so many naysayers would have you believe. The fault is coaching, and coaching alone..
Here's an example:
On this play you see Devin Smith (from Masslon, Ohio) seemingly outrunning a defender and scoring a touchdown. Look closer though…
#20 Jarrick Williams (from Mobile, Alabama) and #4 Eddie Jackson (from Lauderdale Lakes, Florida) are clearly faster than that Rust Belt wide receiver. You can see it. If Williams had been in a better position, he would have caught up to him easily. Jackson did fall over, probably because he was simply running TOO fast, but again that wasn't really his fault.
Coaching is to blame here.
Put our boys in the right spots on the field and slow Big Ten players would never be able to out run them. Bad schemes, bad results.
Run footwork drills to help our boys learn how to control their overwhelming speed. The raw talent and superior athleticism is there..…but coaching is required to help them manage it.
Ohio State shouldn't be playing in the National Title game, Alabama should be. Top to bottom we have more talent, but if that talent isn't coached well, it's wasted.
Fire Nick Saban. RTR.