Now we all know that college football and money are like oil and water. Best served separately, behind closed doors, and preferably out of the way of the media. But when it comes to luring recruits to play football at Alabama, why hide the fact that by joining the school's elite football program you will have access to contracts you wouldn't have even imagined if you had gone to play for Azusa Pacific or Grand Valley State. After all, if 3 championships in the last 4 years and a slew of pot won't help seal the deal, then the other leafy green surely will, right?
That's the most recent tactic that Saban and the football administration down at Bama has taken, but oh so gracefully. Sure, they aren't offering signing bonuses or fanciful cars, but just have a look at what they do offer: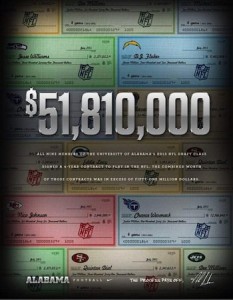 For those having trouble squinting to read the fine text, let's take a deeper look:
ALL NINE MEMBERS OF THE UNIVERSITY OF ALABAMA'S 2013 NFL DRAFT CLASS SIGNED A 4-YEAR CONTRACT TO PLAY IN THE NFL. THE COMBINED WORTH OF THOSE CONTRACTS WAS IN EXCESS OF FIFTY-ONE MILLION DOLLARS.
Dem facts are facts. You can't argue that. But what you can argue is that Saban chooses to highlight these facts above the purity of playing the sport and the glory for being a member of a powerhouse in the NCAA. Do college players really give a sh*t about the game or is it all about the benjamins?
Saban seems to think the process pays off – and who's to argue? Another slimy sentiment from our man Nick.